The best paella in the World is made in Elche
At Cachito we defend the gastronomy of Elche, blending the tradition of 4 Generations and avant-garde
Opening hours:
Monday to Thursday 7:00 to 17:00 · Closed on Tuesday
Friday to Sunday 7:00 to 18:00
The best paella in the World is made in Elche
Noelia Pascual and her sister, Lidia Pascual, who run Restaurante Cachito managed to keep the title of the best paella in the world in Spain at World Paella Day held in the Marina of Valencia in September 2021 in a contest in which international chefs of renowned prestige competed against each other.
History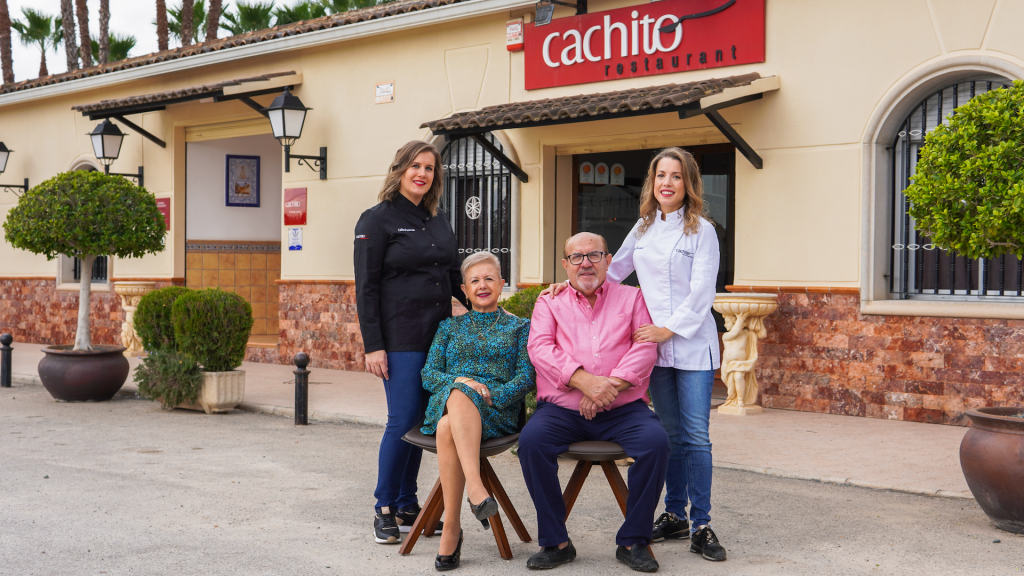 This is how Cachito was born
Founded in 1935 by Mr. Ramón Mora and Ms. Francisca Sempere, who opened what mainly prevailed in that era, an inn, which supplied the houses of the neighbours and provided lodgings to pilgrims.
Later, in 1961, it was taken over by one of the couple's daughters, Trinidad Mora, who, together with her husband, Juan Adsuar, decided to renovate the premises and turn it into a bar with a large grocery and butcher's shop. In 1992, it was their eldest daughter, Natividad Adsuar, who took up the reins supported by her husband, José Antonio Pascual. They decided to give Cachito a new look, where customer comfort was the priority. The bar-restaurant service started to take shape in keeping with traditional gastronomy.
The Fourth Generation, namely Noelia Pascual and her sister, Lidia Pascual, keep in mind the tradition and wisdom of those that came before them, and their taste for the origin.
NOELIA PASCUAL
She grew up in the kitchen with her family. From when she was a little girl, she was sure that she wanted to be like her grandmother, to cook those delicious dishes to be eaten with a spoon and those rice dishes she used to prepare for her family, customers and friends.
She completed her primary studies then trained as a kitchen technician at the IE Aljub in Santa Pola. She then went on to study at the Alicante Tourism Centre and finally completed a Master's degree in Hospitality Business Management at the University of Alicante. Today, she continues to learn from everything around her, her mistakes, her elders… «I try to keep up to date with the latest developments in order to offer our customers the best version of ourselves.»
She teaches courses on the old and contemporary cuisine of her town.
«I am very proud to be a cook, I adore my job and it is my way of understanding life. With passion, with heart and a desire to make other people happy with my cooking. I want to continue, for as long as I have, sharing that happiness with anyone that wants to enjoy it.»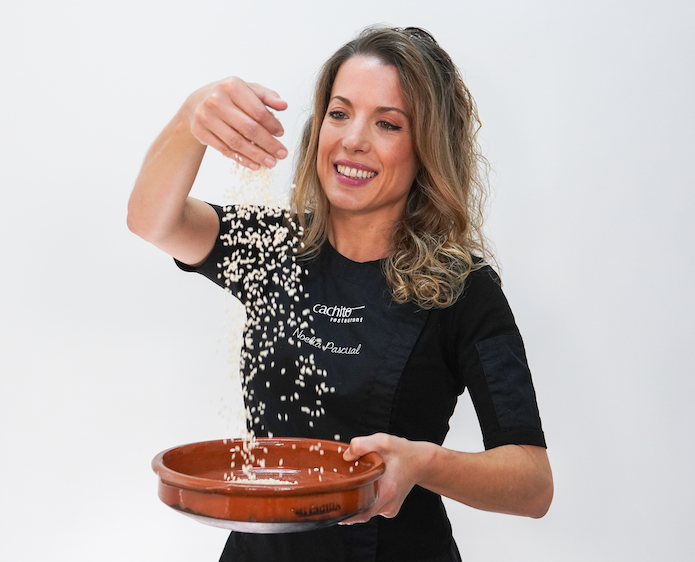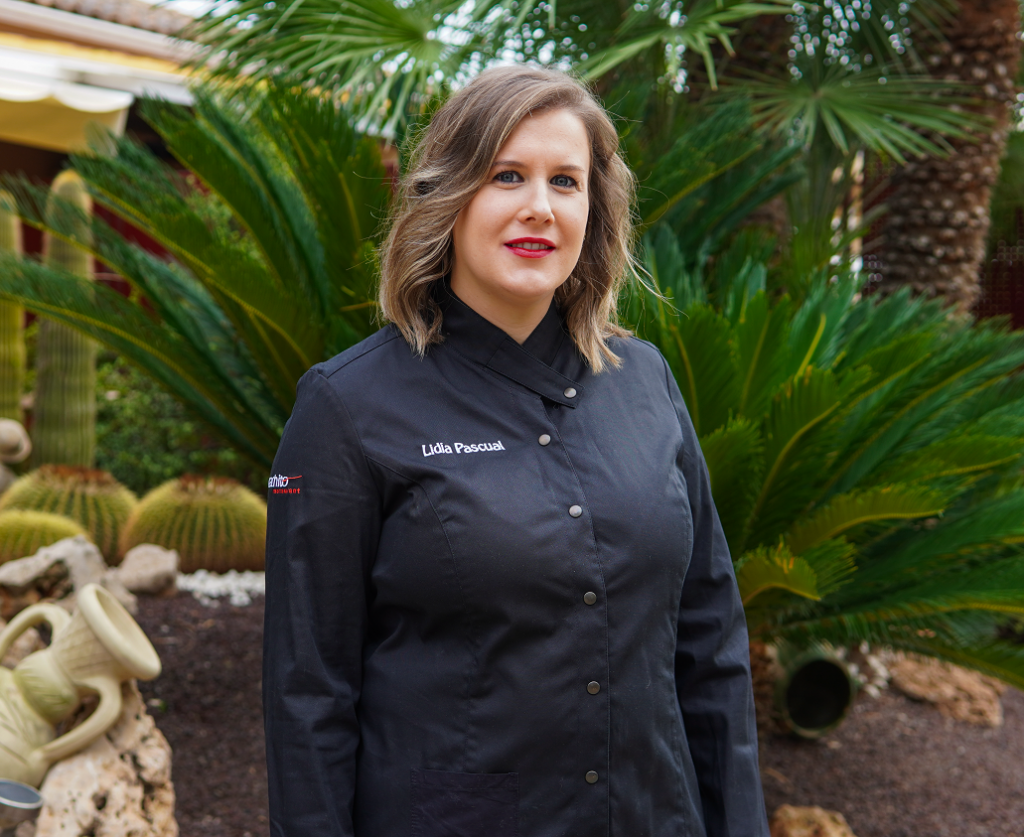 LIDIA PASCUAL
Lidia Pascual is our front-of-house manager and the co-owner of Restaurante Cachito. After completing her studies, she decided to become part of the family business and, to this end, took various hospitality courses, especially wine-related ones. She is currently in charge of accompanying our customers and organising events. Since her arrival, she has brought her youthful enthusiasm to the restaurant, and this is reflected in the different touches that has given the restaurant a more modern image.
"I am happy and proud of what Restaurante Cachito is today. When you come and visit us, I will be delighted to accompany you in this gastronomic experience."
"Together with my sister, we will try to ensure that Cachito continues to grow and continues to be a benchmark in Valencian gastronomy with the best rice in the world."
A Matriarchal business, that has passed from mother to daughter, with 87 years' history, continues its journey of new projects. Noelia and her sister, Lidia, are starting to leave its essence behind, transforming the structure while preserving the traditional cooking and aromas of their grandmother.
Menu
Snacks
Arturo Sánchez acorn-fed Iberian ham… 1/2 Portion 15,5, Portion 26,95
Cheese platter…1/2 Portion 9,5, Portion 16,65
Can of cockles from the Rías Gallegas…17,95
Pipes y carasses…11,10
Cachito salad, pickled gherkin, semi-salted tuna…1/2 Portion 7,65, Portion 10,95
Foie ingot, Turrón, seasonal jam…10,85
Bluefin tuna tartare, pickles, fruit…20,45

From our Garden to the Table
Vegetable brochette, romescu sauce…4,2 each.
HuertaCachito tomato, salted cod (optional)…1/2 Portion 9,10, Portion 13,10
Mediterranean salad…1/2 Portion 8,60, Portion 11,10
Grilled Aspencat, semi-salted tuna (optional)…12,65
Aubergine from «La Terreta» red pesto, toasted almonds (seasonal)…12,70
Stewed artichoke in their own sauce (seasonal)…1/2 Portion 10,15, Portion 15,95
Grilled artichokes (seasonal)…1/2 Portion 9,10, Portion 12,75
Hot Starters
Free-range eggs, baby eels, tender garlic and dried tomato…1/2 Portion 8,65, Portion 14,45
Creamy potatoes, truffles, foie and egg at 65º…1/2 Portion 9,65, Portion 14,95
Crunchy cod with pepper jam…1/2 Portion 7,65, Portion 13,45
Raw jig-caught squid in its own ink and dill oil…(according to the market)
Andalusian-style squid…1/2 Portion 8,10, Portion 13,95
Octopus with seafood purée and figs in syrup… 19,15
Iberian ham croquette… 2,55 each
Red prawn croquette with spinach… 2,75 each
Grandma's croquette with truffle… 2,75 each
Fish
Cod Pil Pil… 21,30
Grilled bluefin tuna taco with pineapple and tequila… (according to the market)
Fish from the fish market… (according to the market)
Grilled meat
Sigüereño lamb chops… 17,60
Beef sirloin… 24,60
T-bone steak cured for 40 days 1 kg… 45,15
T-Bone steak…25,50
Iberian cheeks in pomegranate sauce with spiced sweet potato… 17,65
Slow-roasted goat's leg with herb sauce… 22,65
Put rice in your life
(Rice for one person has a supplement of €5)
Senyoret of rabbit, chicken and snails… 22,75
With rabbit and snails…16,90
With free-range chicken and snails…16,50
With crust… 15,90
With vegetables from our garden… 15,50
With onion, cod, and potato… 16,25
Senyoret…17,25
With prawns and lobster… 18
In its own ink with chunks… 17,10
Creamy with vegetables, cuttlefish and prawns… 16,50
Sweet moment
Suzzete roll with Cantueso ice-cream (10 min.)… 5,65
Elche tart… 5,95
Valhrona chocolate mousse… 6,50
Caramelised Brioche Torrija with ice-cream… 6,55
Crème brûlée… 5,10
Baked cheesecake… 5,85
Seasonal fruit… 3,60
Fig in syrup, dried figs and ice-cream… 5,85
Black volcano with white chocolate (15 min.)… 6,75
Bookings & Contact
You can book your table with us by filling in the following form. Please provide your details below. Thanks for counting on us.
Contact
We are located in Camp d'Elx, just a few metres from the Ethnological Museum of Puçol recognised as a World Heritage Site by UNESCO in 2009.

Opening hours:
Monday to Thursday 7:00 to 17:00 · Closed on Tuesday
Friday to Sunday 7:00 to 18:00

Llámanos al 966 633 575